Allied Strength
Sports Performance Training
The Allied Strength Sports Performance Program has gained an incredible reputation around Cape Ann and beyond from athletes, parents and coaches. We help athletes take their game to the next level by getting them faster, stronger, and reducing their risk of injury. Come experience why everyone is raving about our sports performance program. For a 1-on-1 experience Personal Training is also a available for athletes.
"You won't find a more knowledgeable or caring coach than Kevin Larrabee. Cape Ann's fitness options just got a whole lot better"
- Mike Boyle
Mike Boyle Strength & Conditioning
At Allied Strength we have athletes that travel from up to 30-minutes away (Manchester, Essex, Ipswich, Lynnfield, Hamilton-Wenham, and locally in Gloucester) to make sure they are getting the best possible training experience and results for their sport. From middle/high school to the collegiate level, our sports performance program is built to help athletes reach, and then surpass their perceived athletic potential.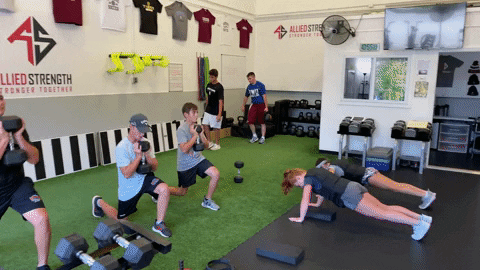 The Cornerstones of the Allied Strength Sports Performance Program
Reduce the Risk of Injury: With the increase trend of sport related injury in youth athletes (NCAA Research) it is imperative that we do everything possible to assure our athletes have a long and healthy career. The prime pillar and perhaps the greatest benefit of the Allied Strength Sports Performance program is reduced risk of injury during competition. The increase in overall strength and endurance will help prepare athletes for the rigors of competition to compete at a high level throughout their season and the playoffs.


Maximize Performance: The Allied Strength Sports Performance Program is designed to help athletes get faster, stronger and to compete at the highest levels of their sport. From youth to collegiate athletics, the competition is getting tougher. A safe and effective strength and conditioning program is becoming more standard and in some cases a requirement for one's sport. Beginning at the warm up, to speed training, power development, plyometric training, strength training and conditioning, athletes at Allied Strength are being prepared to perform at their best no matter their current level of competition.


Provide the Optimal Environment for Athlete Growth: The Allied Strength Sports Performance program is built to support athletes of all abilities and from Age 12/13 and up. This includes teenagers that currently do not play a sport and want to be a part of a fitness program. No matter how fast, strong or skilled, all Allied Strength athletes are teammates. Great teammates support and encourage each other to work hard and get better every single session. This includes a zero-tolerance policy for name calling or athletes putting other athletes down.
Allied Strength Sports Performance training sessions are 60-minutes long and are constructed to help athletes take their performance to the next level. We do this by improving movement quality, increasing speed, power, explosiveness and strength, all while reducing the risk of injury. Each session begins with an Active Warm Up to improve movement and tissue quality, improve agility, and power output. The active warm up is followed by Strength Training, utilizing full body movements to maximize results and minimize training risk. Each session finishes with high intensity conditioning to increase cardiovascular and muscular endurance. We do this by utilizing our Echo Air Bikes, weight sleds, as well as slide boards for lateral movement conditioning.
Overhead Athletes: Our program also has considerations and modifications for overhead (baseball/softball/swimming) and other specialty athletes.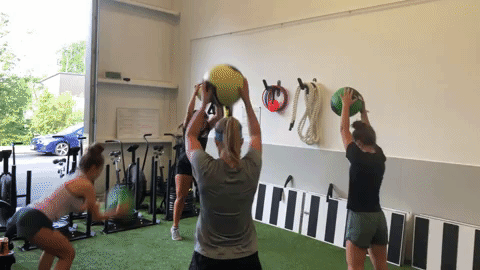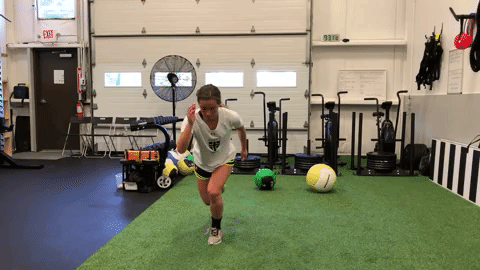 (Scroll down for Spring Session Information)
Winter 2023-2024
Session Schedule/Options:
The Winter Session runs from November 27 - March 9 (12.5 weeks)
*

There are no sessions the weeks of 12/25-1/2 or 2/19-2/25 for school vacations
If there is space available, you may join the Winter Sports Performance Program before/after the November 27 start date and have your session cost
prorated ($35/session) accordingly.
*Your registration and payment secures your spot day/time slot. If a session is missed a make-up will be available as space allows.
2 Sessions Per Week
*The Winter Session runs from
November 27 - March 9
*

There are no sessions the weeks of 12/25-1/2 or 2/19-2/25 for school vacations
(Saturday In-Season)
1 Session Per Week
*The Winter Session runs from
November 27 - March 9
*

There are no sessions the weeks of 12/25-1/2 or 2/19-2/25 for school vacations
**Make Up Sessions are available as space allows. Your registration books your spot in your selected group. All make-up sessions must be done before the scheduled end of the sessions (i.e. Fall)
**We request all athletes complete a trial session before signing up. Payment is made up front for the complete session. Please download, print and fill out our Preregistration Form prior to arriving.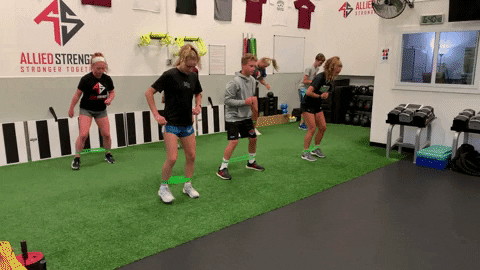 Sports Performance Program
You Are Invited to Experience What Makes Allied Strength Special
For more than seven years I have had the privilege to coach a wide range of athletes at Mike Boyle Strength and Conditioning, from untrained middle school athletes just beginning a strength and conditioning program to elite level athletes in college and the pros. Before my time at MBSC I interned at Cressey Sports Performance. My over 15 years of sports performance coaching and programming is the foundation of our program at Allied Strength.
Allied Strength provides a welcoming and encouraging environment that meets the athletes where they are now and challenges them to reach their perceived potential and then exceed it. It doesn't matter if you don't play sports, or if it is your first time in a strength and conditioning facility, or if you are a confident veteran.. Our athletes at Allied Strength will be driven to not just be great athletes, but to be excellent leaders, teammates and people.
Before signing up for a sports performance training, it's required that athletes (and parents if under 18) to visit Allied Strength so we can introduce ourselves and so you can go through a trial training session to experience what separates Allied Strength from other fitness facilities. Please download, print and fill out our new athlete form prior to arriving.
For more information please call or email us. You are also welcome to visit us during our group hours.
100% Satisfaction Guarantee
---

ALLIED STRENGTH Address

Allied Strength is located at 27 Kondelin Road, Unit #4, Gloucester, MA. Kondelin Road is off of Magnolia Ave, conveniently accessed from Rte 128 and Rte 127.


Parking: For those attending Adult or Sports Performance Group Training between 8AM and 5PM there is unlimited parking on Kondelin road next to the building. Unless you are personal training, since we only have two parking spaces inside the property, we request that you park on the street.